USANA Family Incentive 1st Period LAST WEEK!
English
|  2023-02-12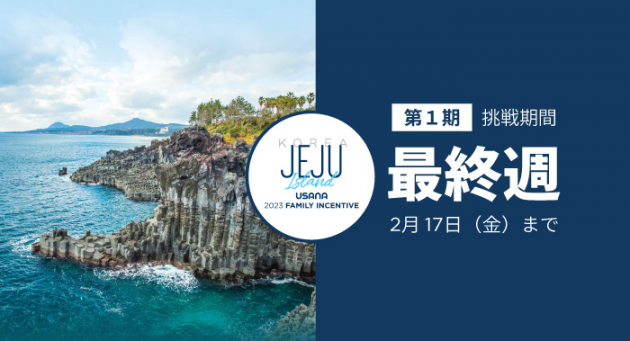 The 1st period of USANA Family Incentive Jeju Island promotion, which has been running since last November, will end this coming Friday, February 17th. Please note that the SVP earned in the 1st period will not be carried over to the next period, so please be careful if you are in the middle of the challenge, especially if you are close to reaching the LEVEL 1 or the 2400 SVP requirement.

[Promotion Overview]
・1st Qualification Period: 21 Nov 2022 - 17 Feb 2023
・Sponsor new members, at least two of whom must be new Associate members.
・Generate a total of 4800 SVP product sales from new members you sponsored.
・If the above two conditions are met during the first challenge period, you will achieve LEVEL 1.
・LEVEL 1 qualifiers will be invited to a trip to Cheju Island for two.

Even if you fail to achieve LEVEL 1 during the first period, you will be considered to have achieved 【LEVEL 0】 if you have generated 2,400 SVP or more from your new members. However, 【LEVEL 0 】 is not eligible for the JEJU Island trip. To achieve LEVEL 1, you will have to sponsor new members in the same way you did during the 1st period and generate 2400 SVP from the new members you sponsored during the 2nd or 3rd qualification period.

Please visit The Hub for more details.
プロフィール

ユサナ・ジャパン・
ミッション・
ステートメント
科学をベースにした、最高品質のヘルス・プロダクトを開発し、ネットワーク・マーケティングを通じて世界に頒布することで、アソシエイト会員、株主、社員に素晴らしい収益をもたらす機会を創造する。
カテゴリ
月別アーカイブ
リンク