Usana Japan Price & Point Adjustment
English
|  2022-12-28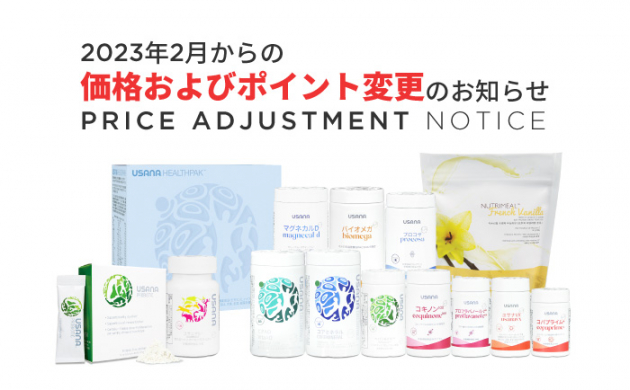 Thank you for your continued use of our product.
As you are probably aware, the prices of raw materials and transportation costs have risen significantly due to the impact of COVID-19 and other factors. In addition, we have been driven by increasing labor costs related to product manufacturing in the United States and the recent trend of yen depreciation, we expect these challenging circumstances to continue in the future.
USANA conducts an annual price and point (SVP) review based on future market fluctuations and trends, and for 2023, we regret to announce that we will be implementing the following changes to most of our Nutritional products and Nutrimeal.

Effective Date: February 4, 2023

USANA Nutritionals & Nutrimeal
USANA Japan has tried to maintain an affordable prices for our Usana Probiotic, Nutrimeal, and Usanimals. However, it has become inevitable to sell them at the same current prices, so we have decided to raise the prices of these products substantially.
For Healthpak, we felt that further price increment is not appropriate, so we will reduce the price to an amount that will allow you to continue using our products with significantly fewer points. Therefore, if you are ordering HealthPak to keep your BC active, please consider adding a product to your Auto Order.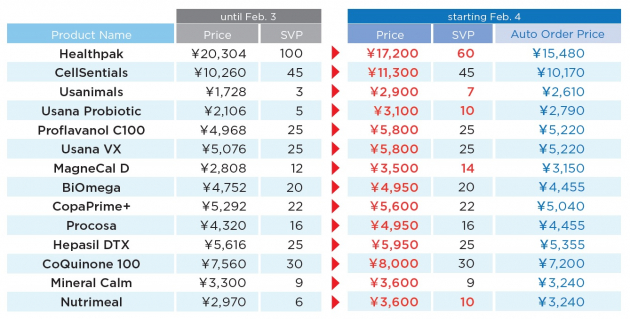 There will be no price or point adjustment for Celavive skincare products.

Discontinuation of Nutritional Packs
Due to a decrease in the number of orders, we will discontinue Nutritional Packs. Those Nutritional Packs included in Auto Orders will be replaced with individual products effective February 4, 2023.

About Auto Orders
If you wish to change your Auto Order, please contact Customer Service or make changes through the Hub (online) by the Friday prior to your Auto Order processing date.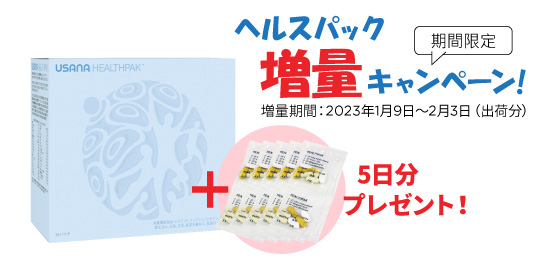 プロフィール

ユサナ・ジャパン・
ミッション・
ステートメント
科学をベースにした、最高品質のヘルス・プロダクトを開発し、ネットワーク・マーケティングを通じて世界に頒布することで、アソシエイト会員、株主、社員に素晴らしい収益をもたらす機会を創造する。
カテゴリ
月別アーカイブ
リンク