Usana Family Incentive 2023
English
|  2022-11-18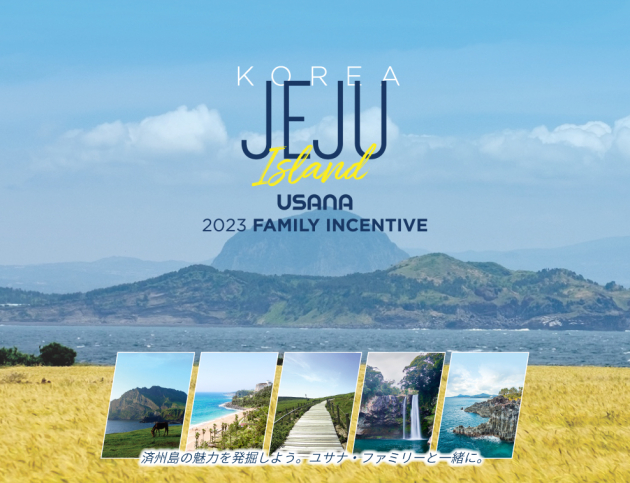 We are pleased to offer a new 'all-expenses-paid' incentive travel program that can be enjoyed by Associate members and their families, friends, and business partners.
The USANA Family Incentive allows up to 6 people (qualifier + 5 guests) to participate, and includes round-trip airfare (or subsidy), hotel accommodations for 3 days and 2 nights, and meals during the trip.

Jeju Island
This time, qualified Associates will be invited to Korea's tropical paradise, "Jeju Island" ♫♪

Jeju Island offers unparalleled dynamic scenery. The world heritage site of Seongsan Ilchulbong, the world's longest lava cave, beautiful blue sea, numerous wonderful waterfalls, and vast grasslands are just a few of the many sights that will delight visitors.

How to Qualify?

Qualification Period
▶ Period 1: 21 Nov, 2022 – 17 Feb, 2023
▶ Period 2: 20 Feb, 2023- 19 May, 2023
▶ Period 3: 22 May, 2023 – 18 Aug, 2023

Associate must achieve the requirements below during one or more of the three qualification periods.

Requirements
Must generate required product sales (SVP), as defined in each qualification level below, from new personally sponsored Associates or Preferred Customers.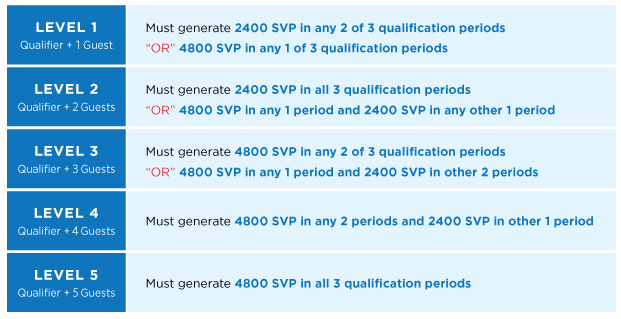 *Must generate product sales (SVP) from new personally sponsored Associates or Preferred Customers in each period.
*Must sponsor at least 2 new Associates (open at least 1BC) in each period.
*If newly enrolled Associates from the previous period continually generate SVP in the following period, their SVP will count towards the qualification.

Double Points Period
All SVPs counts double towards the qualification during the first 2 weeks of each qualification period. Double Points Period is limited to be used only once for each Associate. If someone qualifies in any period, whether or not he/she generated any SVP in the Double Points weeks, he/she is not eligible for Double Points in the rest of the periods.


Rules & Conditions
•Only product sales generated from Japan will be counted towards this incentive program. And this promotion is for Japan associates only.
•Each Incentive Program qualifier must remain commission-qualified from their qualification date to the time of the event.
•Qualifier must attend the trip to be eligible for inviting their guests.
•Qualifiers are allowed to invite guests only up to their qualification level and it is prohibited to bring any extra guest to the trip.
•Qualifiers are allowed to invite anyone as their guests.
•Qualifying for the incentive program is non-transferable, and if the qualifier cannot attend the incentive, the trip will be cancelled, and the guest will not be able to attend.
•Any manipulation of this incentive, i.e., policy violations, will result in disqualification from this incentive in addition to any sanctions under the Associate Agreement.
•Any breach of the Associate Agreement and Policies and Procedures will prohibit Associate from participation in the event in addition to any sanctions under the Associate Agreement.
•The fair market value may be considered income to the qualifier. All taxes, if any, are the sole responsibility of the qualifier
•Any prize is not non-transferable and is not redeemed for cash. USANA reserves the right to substitute a prize for one of equal or greater value in the event if the advertised prize is unavailable.
•USANA reserves the right to discontinue modify the incentive at any time during the event period if events beyond USANA's control compromise the event's fairness or integrity.
•USANA, in its sole discretion, may disqualify any entrant from participating in the event, refuse to award kits or gifts, and require the return of any gifts or kits if entrant engages in any conduct USANA deems to be improper, unfair, or otherwise adverse to the operation of the event or detrimental to other entrants. Such improper conduct includes, but is not limited to, falsifying personal information required during the event.
•USANA reserves the right to modify these rules for clarification purposes without materially affecting the terms and conditions of the event.
•If for any reason the Internet portion of the program is not capable of running as planned, including infection by computer virus, bugs, tampering, unauthorized intervention, fraud, technical failures, or any other causes beyond USANA's control, which corrupt or otherwise affect the administration, security, fairness, integrity, or proper conduct of this event, USANA reserves the right, at its sole discretion, to discontinue the event or modify or suspend the event, if possible and as necessary, to correct any issue that prevents the fair, secure and proper administration of the event.
•USANA assumes no responsibility for any error, omission, interruption, deletion, defect, delay in operation or transmission, communications line failure, theft or destruction, or unauthorized access to, or alteration of, entries or transactions. USANA is not responsible for any problems or technical malfunction of any telephone network or lines, computer on-line systems, servers, or providers, computer equipment, software, failure of any e-mail entry or transaction to be received on account of technical problems or traffic congestion on the Internet or at any Web site, or any combination thereof, including any injury or damage to participant's or any other person's computer related to, or resulting from, participation or downloading any materials in this event.
•USANA Health Sciences Japan LLC reserves the right to make any changes to Terms & Conditions without prior notice.

プロフィール

ユサナ・ジャパン・
ミッション・
ステートメント
科学をベースにした、最高品質のヘルス・プロダクトを開発し、ネットワーク・マーケティングを通じて世界に頒布することで、アソシエイト会員、株主、社員に素晴らしい収益をもたらす機会を創造する。
カテゴリ
月別アーカイブ
リンク