Mineral Calm Now Available!
English
|  2022-05-09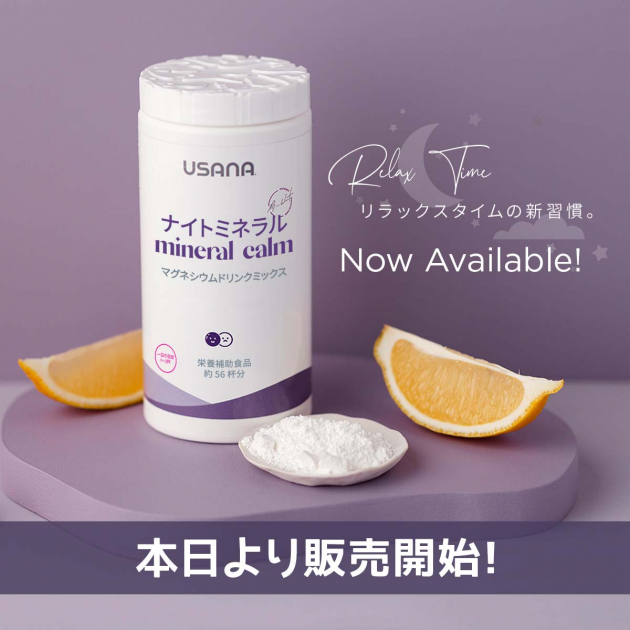 The new Mineral Calm is NOW available!

item #148 Mineral Calm
Member's Price: 3,300 JPY
Points: 9 pts

Quality sleep recharges your body and mind. Ease into sleep with Mineral Calm, and turn your occasional restless nights into restful ones. A good night's sleep repairs muscles and cells, all while revitalizing your mental and emotional well-being. Mineral calm contains magnesium to assist with muscle tension and calm nerves during rest and recovery.*

This warm, effervescent beverage mix combines the calming flavors of ginger and lemon for a delicious, soothing addition to a nighttime routine.

[Health Benefits]

• Helps ease your body and mind for a peaceful night's rest

• Provides the perfect level of magnesium to address muscle tension and calm nerves during rest and recovery

• Supports healthy nerve function and maintain healthy blood sugar levels already in normal range

• Supports GABA receptors in your brain to optimize nerve activity and healthy physical relaxation

[Directions / How to Take]

• Add 1 teaspoon (5g) of Mineral Calm powder to about 90 ml of hot water and fully effervesce.

• Then, add another 90 ml - 150 ml of hot water and stir until powder is mixed thoroughly.

• Serve hot 30 - 60 minutes before bedtime.


For more information about Usana's Mineral Calm, please visit askthescientist.com.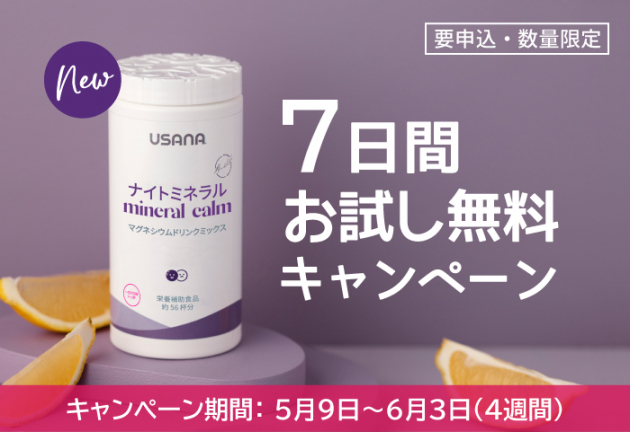 In order to encourage more people to try our new product "Mineral Calm" and experience a new habit of relaxation, USANA Japan is offering a FREE 7-day trial campaign (try now, pay later) for the first time.

[Eligible For]
All Existing Members
*NOT eligible for new enrollments

[Campaign Period]
May 9 - June 3, 2022

[How to Avail]

1. Register for the campaign through the link below.
https://ssl.formman.com/form/pc/dsAolYkKw8pcc83Q/

2. Taste and experience Mineral Calm.
We will deliver the item within a week from the registration date. Then the 7-day trial period will start from the day you received the item.

3. Decide whether you will purchase or return the item.

[If you LIKED the product (Purchase)]
On the 8th day, we will charge it to your credit card.
If you will pay by cash or bank transfer, we will send you a notice by email.

[If NOT SATISFIED (Return)]
Before your 7-day trial period ends, please contact USANA Japan Customer Service by phone call, email, or Facebook chat and notify us that you will return the item.

(Tel) 0120-537-817
(Email) CustomerServiceJP@usanainc.com
(Facebook Chat) USANA Japan Official Facebook Page

If we did not receive nor hear any return notification from you after 7 days, we will charge you for the number of products you ordered (3,300JPY / 1 bottle).


Should you have any questions, please feel free to contact us.
プロフィール

ユサナ・ジャパン・
ミッション・
ステートメント
科学をベースにした、最高品質のヘルス・プロダクトを開発し、ネットワーク・マーケティングを通じて世界に頒布することで、アソシエイト会員、株主、社員に素晴らしい収益をもたらす機会を創造する。
カテゴリ
月別アーカイブ
リンク