USANA Japan 20% UP Challenge
English
|  2021-05-19 

Last year, the world was hit by a pandemic, forcing us to do business differently than before. However, we adapted and embraced new business styles, shared many people good health and business opportunity, and we were able to achieve year-over-year sales growth of approximately 20%.

Then on March 27, 2021, we held a celebration party for "Achieving the 17% Sales Growth" and invited active Associates with rank of Director or higher.

2021 Celebration Party Video

This year (2021), the sales target for USANA Health Sciences Japan is "+20% GROWTH"!
If we achieve this goal, we will invite Associates who meet the following conditions to our next year's Celebration Party with one-night stay at a hotel for 2 persons.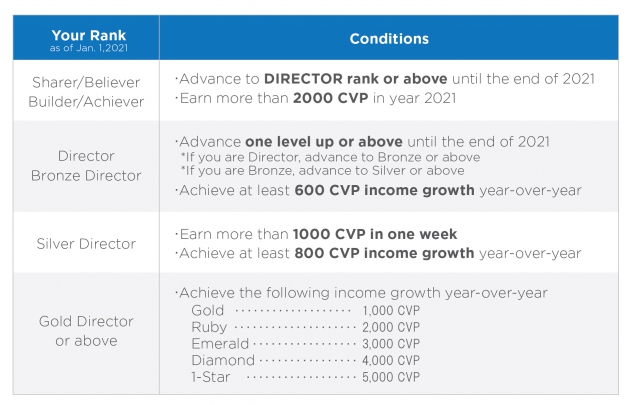 In addition to the Celebration Party and overnight accommodation, we will also provide special trainings and experiential gifts that you can enjoy in pairs.

Join us and empower yourself this year to the next level with this new challenge!

[Notes]
・Only Japan based Associate can participate in this promotion.
・Qualifier plus one guest will be invited.
・Guest can be a downline or non-member. Qualifier cannot bring his/her Sponsor or Upline as his/her guest.
・Celebration Party will be held only if company's sales target are met.
・The qualifier must remain ACTIVE until the party is held.
・Prizes are non-refundable, non-transferrable, and cannot be redeemed for cash.
プロフィール

ユサナ・ジャパン・
ミッション・
ステートメント
科学をベースにした、最高品質のヘルス・プロダクトを開発し、ネットワーク・マーケティングを通じて世界に頒布することで、アソシエイト会員、株主、社員に素晴らしい収益をもたらす機会を創造する。
カテゴリ
月別アーカイブ
リンク