2021 Japan Annual Price & Point Adjustment
English
|  2021-02-01 
Along with continued cost increase on raw materials and shipping, USANA globally adjust prices and points every year.

In 2021, to use a longer time and make an easier introduction to new customers, the following Celavive basic items will be available at a more affordable prices effective March 20, 2021.
Along with this adjustment, each point will be reduced as well.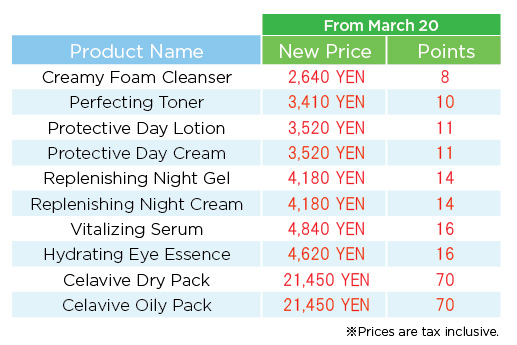 Auto Order:
Please kindly make changes by Friday prior to your Auto Order week through the Hub or call Usana Japan Customer Service.

If you have any questions, please contact Customer Service.

Business Hours: Mon-Fri 11:00-19:00
TEL: 0120-537-817
Email: CustomerServiceJP@usanainc.com


プロフィール

ユサナ・ジャパン・
ミッション・
ステートメント
科学をベースにした、最高品質のヘルス・プロダクトを開発し、ネットワーク・マーケティングを通じて世界に頒布することで、アソシエイト会員、株主、社員に素晴らしい収益をもたらす機会を創造する。
カテゴリ
月別アーカイブ
リンク