【2 Weeks to go!】PaseSetter Requalification for Premium Status!English
|  2019-10-17 
At the Global Convention, the change on PaceSetter Program is announced and this change makes it easier to become Premier Status! Also this will help you to earn the Lifetime Matching Bonus! This change is effective August 17, 2019.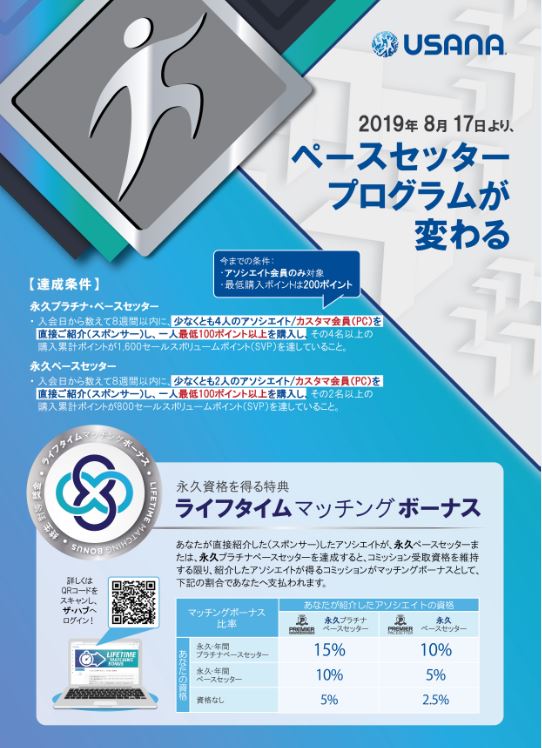 We're excited to announce the following changes to the PaceSetter program.
• Preferred Customer Volume and enrollments will now count toward qualification for the PaceSetter program.
• Personal Associate and Preferred Customer enrollees now require only a 100-point purchase of products.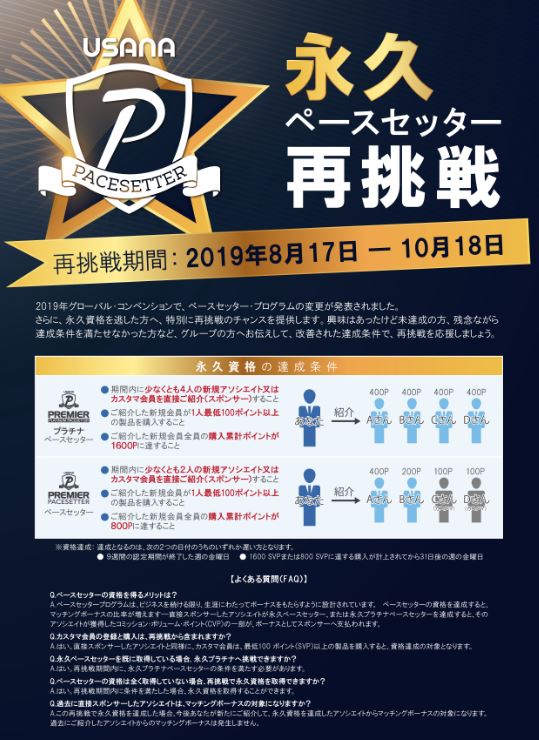 Premier Status Requalification
This means your new team members can start sharing products with their friends and family right away to earn their PaceSetter status and Lifetime Matching Bonus. But what if you didn't meet the PaceSetter requirements when you first started your business? Don't worry—we have an opportunity for you, too.

From August 17 to October 18, every Associate who didn't originally reach PaceSetter status has a second chance to earn the Lifetime Matching Bonus. And, we're giving you nine weeks to qualify.

Current Annual Premier PaceSetters can use this opportunity to advance to Lifetime Premier Platinum status. And current Annual PaceSetters can also qualify for Lifetime Premier PaceSetter or Lifetime Premier Platinum.
プロフィール

ユサナ・ジャパン・
ミッション・
ステートメント
科学をベースにした、最高品質のヘルス・プロダクトを開発し、ネットワーク・マーケティングを通じて世界に頒布することで、アソシエイト会員、株主、社員に素晴らしい収益をもたらす機会を創造する。
カテゴリ
月別アーカイブ
リンク