【6/15-6/22】Pay It Forward with USANA's World Service Week!English
|  2019-06-12 
USANA World Service Week is nearly here. Don't miss your chance to participate!

The world is a better place when we choose to give back. This is why the USANA True Health Foundation is hosting an annual World Service Week, June 15–22.

Whether you want to volunteer at a local orphanage, donate to a favorite charity, or help your neighbor paint their house, this is your chance to pay it forward.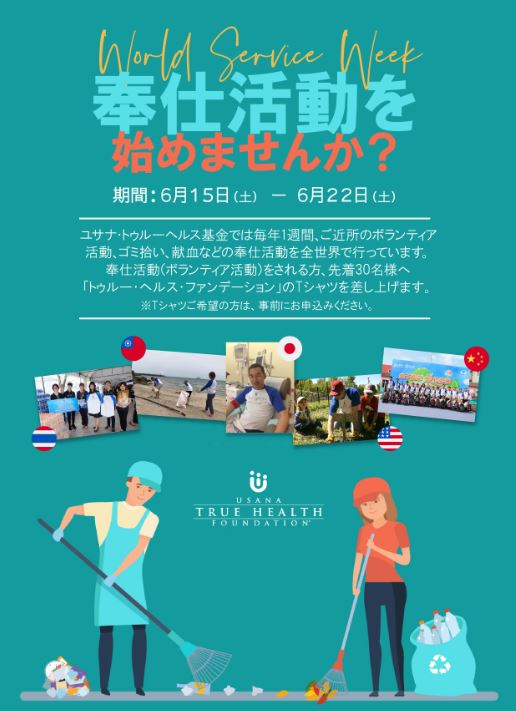 Additional Benefit
Japan office offers THF T-shirt by participating in this activity under the following conditions.
1.Only 1 T-Shirt per account.
2.Wear T-shirt and participate in any activity during 6/15 and 6/22. Take some photos how you are involved.
3.Submit those photos to USANA Japan by 6/28
Provided photos are posted on USANA Japan SNS channels.

Please apply before Friday June 14, 7pm
This is first-come and first-served opportunity up to 30 people.
Please apply from here

プロフィール

ユサナ・ジャパン・
ミッション・
ステートメント
科学をベースにした、最高品質のヘルス・プロダクトを開発し、ネットワーク・マーケティングを通じて世界に頒布することで、アソシエイト会員、株主、社員に素晴らしい収益をもたらす機会を創造する。
カテゴリ
月別アーカイブ
リンク