2019 Golden Week ScheduleEnglish
|  2019-05-02 
In 2019, we have exceptionally 10-day "Golden Week" National Holiday Saturday April 27 through Monday May 6.
During this holiday week, Japan Customer Service and Office Counter will be open only on Thursday May 2.
All orders during this holiday week will be shipped from Tuesday May 7.

Shipment Schedule:
Auto Order (Cycle3) and all Orders April 26 after noon – May 2: to be shipped from Tuesday May 7
Auto Order (Cycle4) and Orders May 3 – May 6: to be shipped from Wednesday May 8

Auto Order Cycle 3:
Please make Bank Transfer "Furikomi" by Friday April 26 if you choose ATM for your Auto Order payment. All banks are closed during the holiday week. There is no Auto Order notice during this holiday week.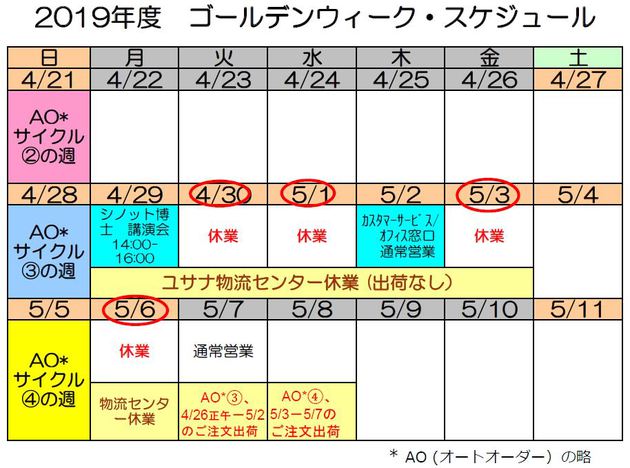 Commission Payment:
Commission earned by the week of April 26 will be paid after May 6

Online Orders:
Online orders can be placed anytime during the holiday week and volume will be generated immediately. However they are shipped from May 6.
プロフィール

ユサナ・ジャパン・
ミッション・
ステートメント
科学をベースにした、最高品質のヘルス・プロダクトを開発し、ネットワーク・マーケティングを通じて世界に頒布することで、アソシエイト会員、株主、社員に素晴らしい収益をもたらす機会を創造する。
カテゴリ
月別アーカイブ
リンク