【Change】Special Seminars by Keijun Koh!English
|  2019-03-29 
The special Seminar by USANA Research & Development Director: Keijun Koh will conduct a special seminar on Monday April 29, 2019.

Keijun Koh will talk about the upcoming new products and Celavive.


Ticket are available now!
Method of payment: ATM(Furikomi) or Cash at USANA Office
Ticket: 500 JPY/ No refund
Limited up to 5 tickets per account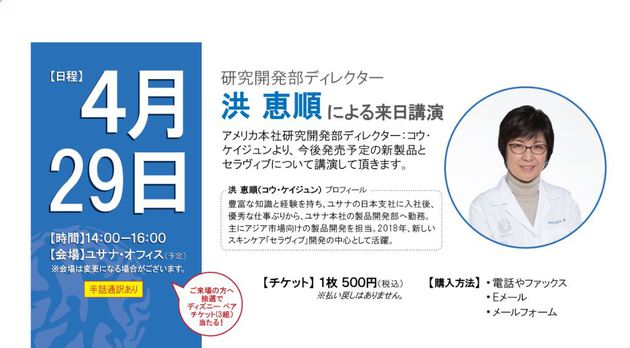 Date: Monday April 29, 14:00-16:00
Venue: USANA Japan office (to be announced later)

Topics: Upcoming New Products and Celavive
*All in Japanese with sign-language translation* No English translation is provided.

Do not miss this Exclusive opportunity to learn directly from one of USANA Top Scientists!
Keijun Koh
Keijun studied pharmacology and biochemistry in Japan, where she earned a bachelor of science degree in pharmacology. She is also a registered pharmacist in Japan. Now, Keijun has spent the last 14 years providing expert knowledge in developing premiere products for global markets. In 2018, she was heavily engaged in the successful Celavive products launch as a main developer.
プロフィール

ユサナ・ジャパン・
ミッション・
ステートメント
科学をベースにした、最高品質のヘルス・プロダクトを開発し、ネットワーク・マーケティングを通じて世界に頒布することで、アソシエイト会員、株主、社員に素晴らしい収益をもたらす機会を創造する。
カテゴリ
月別アーカイブ
リンク