【Additoinal 50 Tickets】Special Seminars by Dr. Sinnott!English
|  2018-10-18 
The first offer limited to 100 tickets were sold out in 2 days.
This is the additional opportunity to purchase 50 more tickets.
Do not miss this opportunity to learn directly from USANA CSO!

USANA Japan welcome USANA Chief Science Officer; Dr. Robert Sinnott and a special seminar will be hold on November 25, 2018!


Date: Sunday November 25, 13:00-15:00
Venue: TKP Ichigaya Conference Center 7F
*Japanese and sign-language translation are provided*
Topics: InCelligence Technology and USANA Product Difference.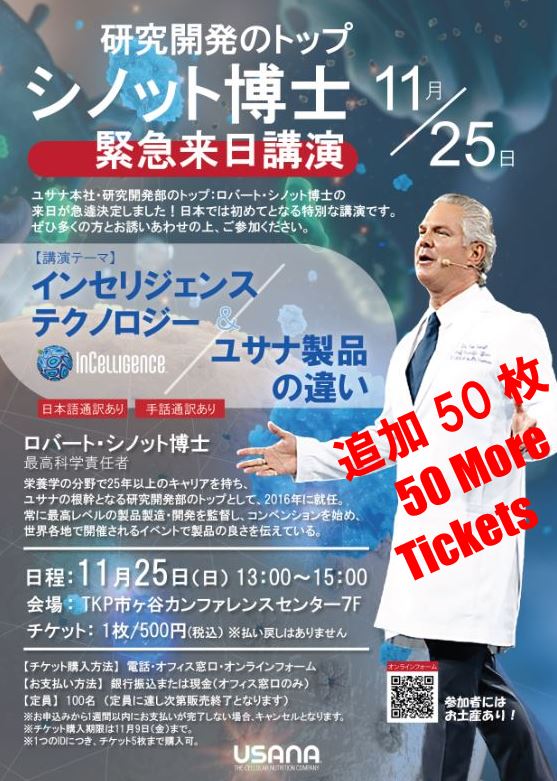 To purchase ticket: 500 JPY/ No refund and limited to 100 tickets.
Limited up to 5 tickets per account


How to purchase tickets; mail form and Office Counter (Ichigaya)
Methods of payment: Cash (@Ichigaya office) or Bank transfer
Payment has to be made within 7 days from applied date

Tickets are send via regular mail or pick up at Office counter.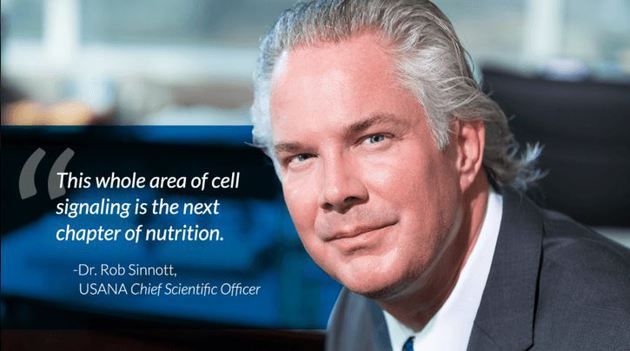 Dr. Robert Sinnott
Dr. Sinnott has earned a bachelor of science in biological sciences, a masters in natural sciences, and a doctorate in plant sciences. He is also the author of numerous publications in the fields of plant science, biotechnology, and nutrition. Beyond his education and expertise, he has also held positions as a Chairman and Vice-Chairman of the Senior Scientific Advisory Council at the Council of Responsible Nutrition. His scientific acumen makes him a perfect fit for USANA.

And it's not just Dr. Sinnott's scientific experience that makes him a valued member of USANA's executive team. He has completed postgraduate coursework in a variety of business topics at Harvard Business School, the Massachusetts Institute of Technology, the Hong Kong University of Science and Technology, and much more. This experience demonstrates a business intellect on par with his scientific intellect.
プロフィール

ユサナ・ジャパン・
ミッション・
ステートメント
科学をベースにした、最高品質のヘルス・プロダクトを開発し、ネットワーク・マーケティングを通じて世界に頒布することで、アソシエイト会員、株主、社員に素晴らしい収益をもたらす機会を創造する。
カテゴリ
月別アーカイブ
リンク