USANA News Letter - May
English
|  2016-05-16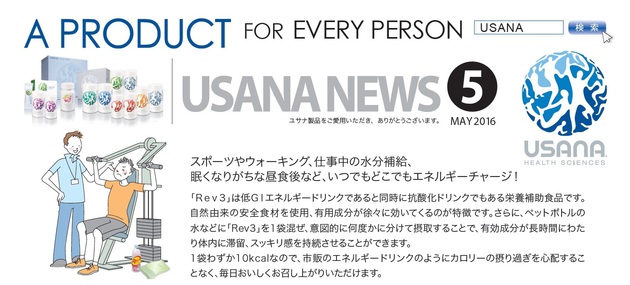 Rev3 Surge Pack (28 sticks)
"Join the REVolution"

Rev3 is the revolutionized energy drink.
In contrast to "crash-and-burn" energy drinks, USANA's Rev 3 is a "good-for-you" energy drink.

Rev3 is CLEANER. SMARTER. STRONGER.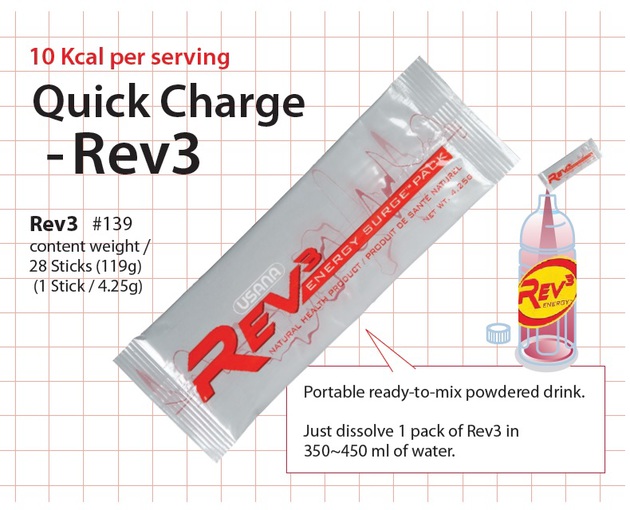 Formula Features

•Low sugar (2 g)
•Low calories (10 calories)
•Hydrating alternative to crash-and-burn energy drinks
•Convenient to carry when you're on the go
•Easy to make—simply mix with water

CLEANER– Refreshing lemon tea flavour

•No artificial flavors
•No artificial sweeteners
•No artificial preservatives
•No artificial colors

SMARTER- Smart source of nutrients

•Provides smarter, natural sources of caffeine from
white, green and black teas to support mental
alertness and stamina

•Includes important antioxidants and
phytonutrients that are known to be beneficial to
health and metabolism

STRONGER– powerful, energy-producing ingredients

•Contains green tea, Korean ginseng, and Rhodiola
rosea to improve the body's response to stress
and fatigue

•Provides nutrients necessary for healthy and
efficient cellular energy production

FREE SHIPPING for every order of Rev 3. Promotion until June 3, 2016.
Order "good-for-you" energy drink now!
プロフィール

ユサナ・ジャパン・
ミッション・
ステートメント
科学をベースにした、最高品質のヘルス・プロダクトを開発し、ネットワーク・マーケティングを通じて世界に頒布することで、アソシエイト会員、株主、社員に素晴らしい収益をもたらす機会を創造する。
カテゴリ
月別アーカイブ
リンク