30th Anniversary Gift - Free Business Center
English
|  2022-07-08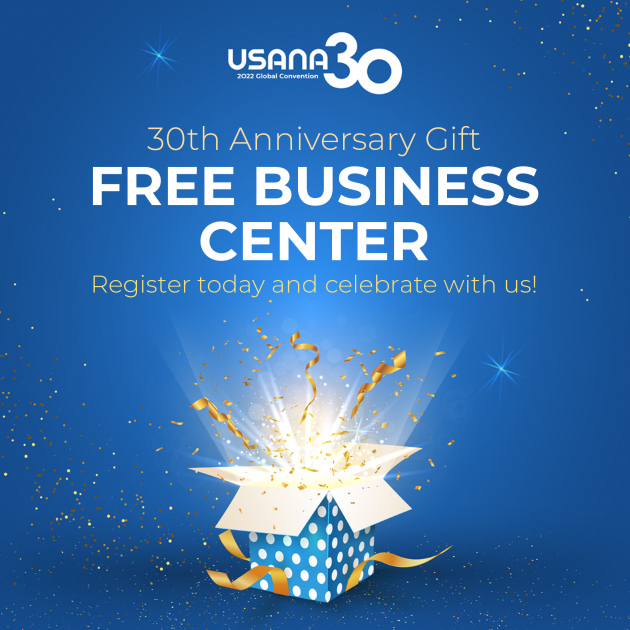 Our 2022 Global Convention just leveled up!

Not only will you network with the best in the business and learn from 20+ hours of trainings and workshops, you'll also unwrap a free Business Center (BC) as a special 30th Anniversary gift.

A new BC brings more possibilities:
• Increase commissions
• Accelerate downline development
• Help your team grow as you grow

How to Get your New BC

[STEP 1] Register for the 2022 Global Convention
One additional BC will be awarded per registered distributorship, whether "In Person" or "Virtual Regular Single".

Register Here: https://events.usana.com/website/36070/home/
Registration deadline is until August 19, 2022 only.

[STEP 2] Activate your New BC
To activate your new BC, call USANA customer service and place a 200 SVP product order until September 9, 2022. Please do this no sooner than 48 hours after you register for Global Convention.

Usana Japan Customer Service
TEL: 0120-537-817 (toll-free)
Email: CustomerServiceJP@usanainc.com
(Business Hours: 11AM - 7PM weekdays only)

2022 Global Convention is the ultimate event to boost your USANA business!
Join us for a celebration 30 years in the making.

For more information, please visit the Hub.
プロフィール

ユサナ・ジャパン・
ミッション・
ステートメント
科学をベースにした、最高品質のヘルス・プロダクトを開発し、ネットワーク・マーケティングを通じて世界に頒布することで、アソシエイト会員、株主、社員に素晴らしい収益をもたらす機会を創造する。
カテゴリ
月別アーカイブ
リンク