New Auto Order Notice ServiceEnglish
|  2018-11-09 
Currently we are sending voice message (Japanese) to Auto Order Purchasers whose credit card transaction are declined and ATM payment is not completed.

To provide a better service, we start switching from voice to SMS (Short Message Service) effective November 11, 2018.

This SMS service is a short text message (see the Japanese message as below) and CANNOT respond to this message.

To clarify your Auto Order amount, please contact Customer Service directly.

The message will be all in Japanese as below.
Thank you for your attention.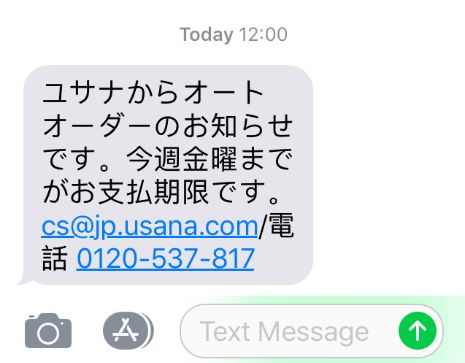 プロフィール

ユサナ・ジャパン・
ミッション・
ステートメント
科学をベースにした、最高品質のヘルス・プロダクトを開発し、ネットワーク・マーケティングを通じて世界に頒布することで、アソシエイト会員、株主、社員に素晴らしい収益をもたらす機会を創造する。
カテゴリ
月別アーカイブ
リンク