Customer Feedback about Mineral Calm
English
|  2022-05-18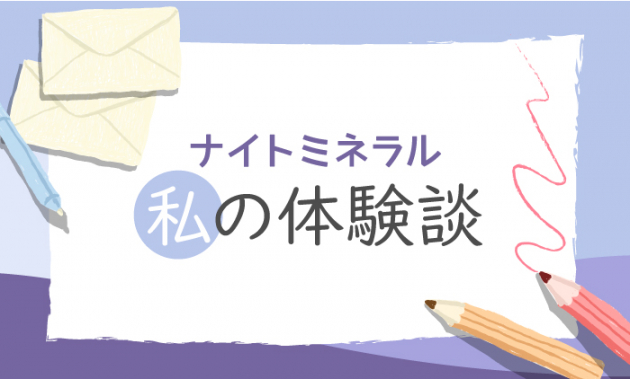 [From: Liberty Ito] (Chiba)

I myself do not suffer from any sleep disorder, but I have many friends around me who do, so I thought I had to experience it for myself before recommending the Mineral Calm.
After taking Mineral Calm, I felt that I did not have to get up to go to the bathroom at night anymore. I was able to sleep well into the morning without waking up in the middle of the night.
My son, who is in his 20s, also said "It tastes good and I slept well."
I will be referring this to my friends!


[From: Adelfa Suzuki] (Kanagawa)

I split my sleep into two parts: the first sleep is from 9:00PM to midnight.
Once I get up and do my chores. After that, I take my second sleep around 3:00AM.
I have always had a problem with the second sleep being shallow each time. My body was asleep but my head was awake and I could hear the sounds around me.

Around the fourth day after taking the Mineral Calm, I noticed that the sounds I hear while sleeping has stopped. I think I was able to fall into a deep sleep.
Thanks to this, I do not feel tired when I wake up in the morning and I feel lighter in the morning.

Also, I don't know if it's because of this product, but my bowel movements seem better than usual!


[From: Aya Takahashi] (Tokyo)

The first time I drank it, I really enjoyed it and felt relaxed.
I also love the moderate and gentle sweetness of it.

Company says that Mineral Calm is a "warm drink before bed," but I prefer to drink it iced.

When I go to the gym, I take it in a USANA bottle shaker.
I drink a little bit when I exercise, or when I go into the sauna.
I think it contributes to metabolism and combustion in my body. I sweat more than ever, and my muscles seem to relax.

Also, thanks to the magnesium, my bowel movements have been even better than usual.
I feel that it promotes the absorption of nutrients as well as the excretion.

As for the quality of my sleep, personally, it is even better.
I feel like I sleep better and deeper.

Anyway, it tastes really good!
Thank you for the wonderful product!


[From: Ruby Alvarez] (Chiba)

I like the refreshing aroma that seems to relieve fatigue.
Before going to bed, I add half a teaspoon of Mineral Calm to a cup of hot water and drink it, and the next morning, I feel refreshed all over. It is a magical experience.
Also, my husband, who usually goes to bed between 1:00 am and 2:00 am, felt sleepy around 11:30 am on the day he drank the Mineral Calm and was able to go to bed over an hour earlier and longer than usual.


[From: Carmen Miura] (Kanagawa)

I have come to love the new Mineral Calm. It smells great and makes me feel relaxed. I am so tired from working every day and this is the perfect drink for a perfect sleep.
I also gave Mineral Calm to my daughter, who usually stays up late at night, and she went to bed early that day. Because of that, I was able to get to bed early too.
Also, my husband, who usually falls asleep twice in the morning, did not fall asleep again and woke up refreshed on the day he took Mineral Calm.

Thank you so much for bringing this great product to Japan that really helps achieve perfect health.


[From: Fumiko Kobata] (Kyoto)

It depends whether you get a good sleep or not, but for what it's worth, it tastes great!
I stirred it with hot water and drank it, and 30 minutes later I was so sleepy I took a nap.
I've only been trying it for a week, but I have no complaints about the taste, so I decided to just go ahead and buy it!
Also, the fact that USANA made a product with the awesome combination of baking soda, citric acid and magnesium is awesome itself!


[From: Wu Lingling] (Tokyo)

The lemon well suppresses the pungent taste of ginger and can be enjoyed even in small quantities.
If you drink it with hot water before going to bed, it warms your body and helps you sleep well.
I have been drinking it for four days in a row, and I sleep soundly from the time I go to bed until morning, and it feels great.

Sleep is an important time that takes up 1/3 of your life and is said to determine the quality of the remaining 2/3 of your life. I would like to take this opportunity to recommend this product to: 1) those who are sleepy during the day even though they are getting enough sleep, 2) those who wake up in the middle of the night, and 3) those who have difficulty falling asleep. I definitely recommend taking Mineral Calm so they can get a good quality sleep.
プロフィール

ユサナ・ジャパン・
ミッション・
ステートメント
科学をベースにした、最高品質のヘルス・プロダクトを開発し、ネットワーク・マーケティングを通じて世界に頒布することで、アソシエイト会員、株主、社員に素晴らしい収益をもたらす機会を創造する。
カテゴリ
月別アーカイブ
リンク