USANA Japan Preferred Customer Enrollment gets EASIER!
English
|  2015-04-30 
Effective 11th of May 2015, to make USANA products easier to purchase, USANA Japan will simplify Preferred Customer enrollment process through these 2 options:

1. NEW Preferred Customer Application Form
– Enrollment form and Product Order form are combined in one page with English translation
【How to get the New Preferred Customer Application Form】
● Print and download from the HUB
[Login→マイビジネス(My Business)→書式/価格表(Forms)]
● At USANA Japan Office Counter
● Make a request to Customer Service by phone or email.
[The form will be sent through mail for free]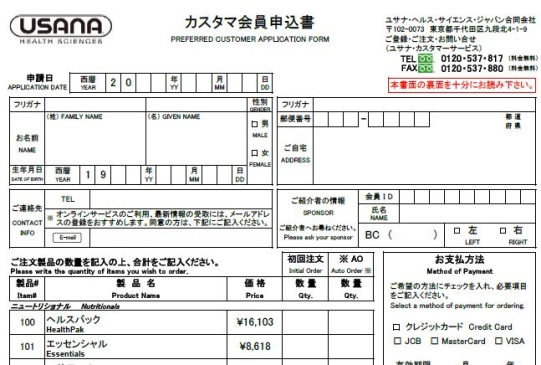 2. Preferred Customer Mail Form
-Enrollment by just filling out all necessary information online.
● No need to submit an application form
● Accessible through computer, smart phone or cellphone
*Click here to go to Preferred Customer Mail Form Page.
*All enrollment and order transactions will be processed
during regular business hour (Mon-Fri 10am-7pm)



New Preferred Customers who will register on or after the effective date will receive a "Welcome Kit". This kit includes USANA product catalog, rolling calendar and price list.



Along with this change, the Associate's application form will be renewed. Introduction Kits purchased on or after the effective date are enclosed with NEW Associate application form. However, you may still use the old application form for enrollment.

Please share this simplified Preferred Customer enrollment with your team!


★What is Preferred Customer?★
Preferred Customers may only purchase products and enjoy Initial Order Reward and 10% Auto Order discount. Registration and renewal fees are all FREE.
Note: Preferred Customers cannot introduce and earn any commission.

プロフィール

ユサナ・ジャパン・
ミッション・
ステートメント
科学をベースにした、最高品質のヘルス・プロダクトを開発し、ネットワーク・マーケティングを通じて世界に頒布することで、アソシエイト会員、株主、社員に素晴らしい収益をもたらす機会を創造する。
カテゴリ
月別アーカイブ
リンク